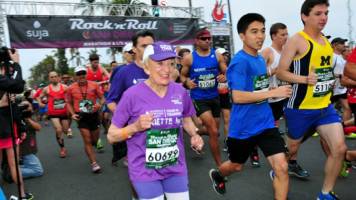 #InspiringStory - 92 Years Cancer Survivor Lady Runs And Completes Marathon
Share this post
Another Inspiring Story comes From Charlotte, North Carolina where 92 year old women who is a Cancer Survivor completed Marathon on Sunday 31st May.
Harriette Thompson completed Sunday's Rock 'n' Roll Marathon in San Diego in 7 hours, 24 minutes, 36 seconds. She was mobbed by well-wishers as she crossed the finish line.
Here is What she said after finishing crossing line "I couldn't train very well because my husband was very ill and I had to be with him for some time and then when he died in January I had some treatments on my leg," she said. "I was just really thrilled that I could finish today." She added that she enjoys raising money for cancer research and figures the competition has helped keep her healthy. "I don't think I'd be living today if I didn't do this running," the cancer survivor said. "I'm helping them and they're kind of helping me."
What a brave heart, Fighting Cancer, being there for ill husband and then pain of loosing him, leg injuries and many health issues following in, age ticking and still manages to complete Marathon and also Helps other Cancer Patients.

Ma'am you are Super Inspiring, Lots of Hugs from our side.
Like Picescorp on Facebook
Follow @Picescorp
Share this post
Leave Your Comments Here
Don't Miss Out On These Awesome Posts