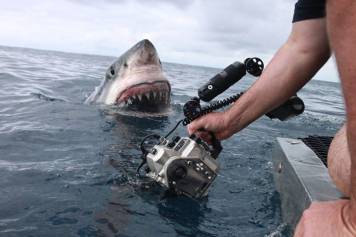 Great White Shark Captured On Camera
Share this post
You would have seen suck kind of Great White Shark in acion only in Steven Spillburg's Jaws. But what happened in australia is damn real.
Dave Riggs and his team of oceanic adventurers were shooting documentary footage for a "Shark Week" special near Port Lincoln in South Australia
Riggs says "We'd just come back from Port Lincoln in South Australia, and while we were over there, we ran into one of the most remarkable animals I've ever see, It was a female great white. She was around four and a half meters in length, and extremely inquisitive of what we were and what we were doing." Footage of the shark shows her sniffing around Riggs' boat and equipment, at times baring her giant teeth. "Of course, great whites don't have hands, so she was researching the area the only way she knows how, and that's with her mouth," he explains. "So this photo is quite dramatic, but it really highlights how awesome these apex predators are."
Like Picescorp on Facebook
Follow @Picescorp
Share this post
Don't Miss Out On These Awesome Posts