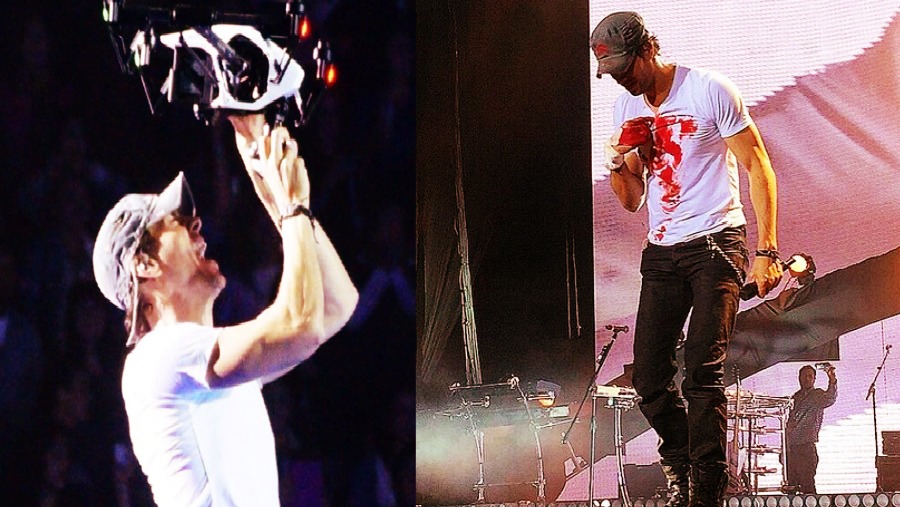 #GenuinePerformer - Enrique Iglesias First Cuts His Finger In Attempt To Catch The Drone & Then Continues Performing
Share this post
Latin Singer Enrique Iglesias's concert in Mexico turns red, with him getting injured while on stage.
Singer was performing in Tijuana, Mexico under his Love and Sex Tour. Enrique has habit of interacting with and keeping the audience entertained. Holding the Drone to show the audience his point of view from stage is nothing new to him, as it has been done in many previous concerts.

Concert on 30th May turns out not so favorable as Enrique gets hold of wrong side of drone and slicing his finger.
After which he was briefly treated off-stage before insisting that he continue performing for an additional 30 minutes. with bandages wrapped on his fingers, he was back with a bang on stage. While he was performing his finger started bleeding profusely, but did the singer stop there.
No! What a true entertainer, he just did not wish to disappoint his fans.
In fact he was so sporty he drew heart on his tee shirt with his own blood.
When @enrique305 drew a heart with his blood pic.twitter.com/ET8H2FZgsm

— Ghazel (@Enriqueismyhero) May 31, 2015
After the show he was rushed to the airport where he was taken in ambulance, he is said to be taken to Los Angeles for treatment. He won heart of all his fans. Get well soon Enrique, stage and fans awaits for your rocking performance.
Like Picescorp on Facebook
Follow @Picescorp
Share this post
Leave Your Comments Here
Don't Miss Out On These Awesome Posts