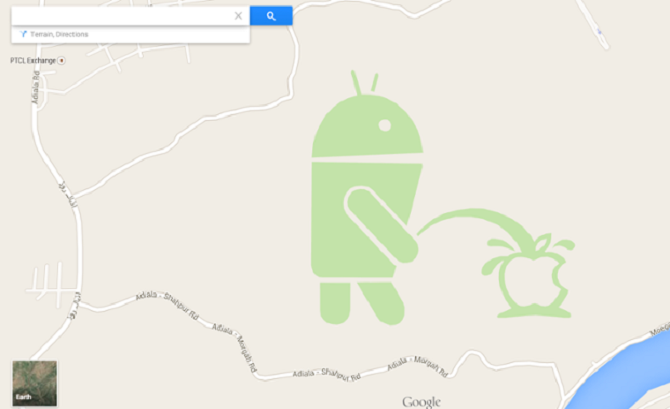 #OMG Android Bot Peeing On Apple's Logo on Google Map
Google is love of our life, we spend more time with google than we spend with our loved ones. Well why should we not? Google keeps us happy, solves our problems all the time, and keeps us entertained. Google recently crossed limit of wackiness with Maps. Google has done things like letting one play Pac-Man on any street, btu what they have done now is craziest ever.

If you had come across google maps in last two days, you would have known that, this spot near the Pakistani city of Rawalpindi had great Android bot peeing over logo of Apple. People were impressed and equally surprised with this weird thing appearing on Google Map.

Google has apologized for this event in statment given to The Washington Post, let us not be shocked because this turned out to be done with submission by some user using Map Marker feature. No Google staff was involved in this wacky image og Android bot peeing on Apple's logo. This reflects no supervision and review done on submission by this feature, which can turn out to be pretty serious in future as Users believe what they see on google [The Blind Faith we have on google]

Mara Harris of google had said in an e-mail statement "We are sorry for this inappropriate user-created content we are working to remove it quickly, We also learn from these issues, and we are constantly improving how we detect, prevent and handle bad edits. The vast majority of users who edit Google Maps provide 'great contributions'. "

A Google spokesperson gave Mashable Mashable pretty much the same explanation. "Even though edits are moderated, occasionally the odd inaccurate or cheeky edit may slip through our system," he said in a statement to Mashable. "We've been made aware of the issue and are working on getting it removed."

Google has since cleaned up Maps and removed the image.
Like Picescorp on Facebook
Follow @Picescorp