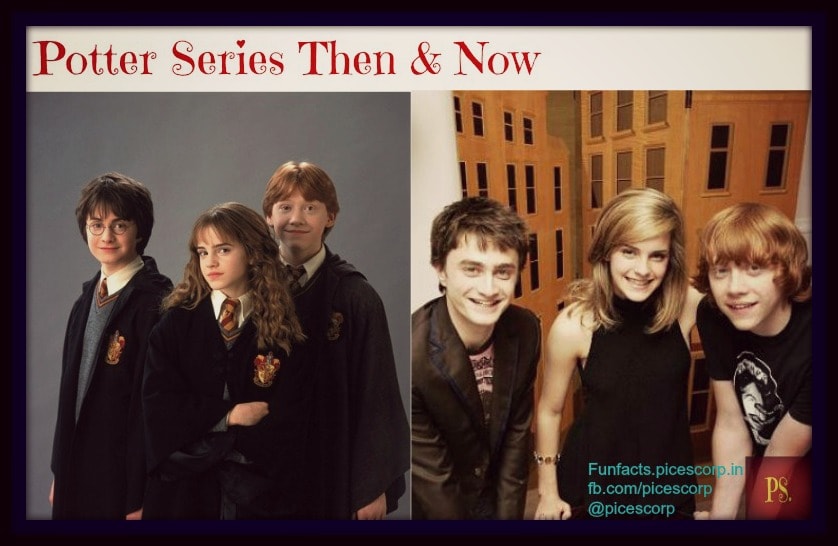 #Then&Now - Actors Of Harry Potter Series Are All Grown Up Now And How Wow They Look
Share this post
Harry Potter is a series of seven novels written by J. K. Rowling. The series is about adventures of a young wizard, Harry Potter and his friends Ronald Weasley and Hermione Granger, They are students at Hogwarts School of Witchcraft and Wizardry.
The first novel Harry Potter and the Philosopher's Stone, released on 30 June 1997. It gained popularity. In 2001 From the novel series a fantasy film was created which was directed by Chris Columbus and distributed by Warner Bros. From the Harry Potter seven part series 8 movies were picturised from 2001 to 2011. It has been almost 4 years now from last film realesed.

Here look at the main cast of the series how they looked back in their first movie.
Daniel Radcliffe as Harry Potter




Rupert Grint as Ron Weasley




Emma Watson as Hermione Granger




Bonnie Wright as Ginny Weasley




Tom Felton as Draco Malfoy


Matthew Lewis as Neville Longbottom




Devon Murray as Seamus Finnigani




James Phelps as Fred Weasley




Oliver Phelps as George Weasley





Like Picescorp on Facebook
Follow @Picescorp
Share this post
Leave Your Comments Here
Don't Miss Out On These Awesome Posts