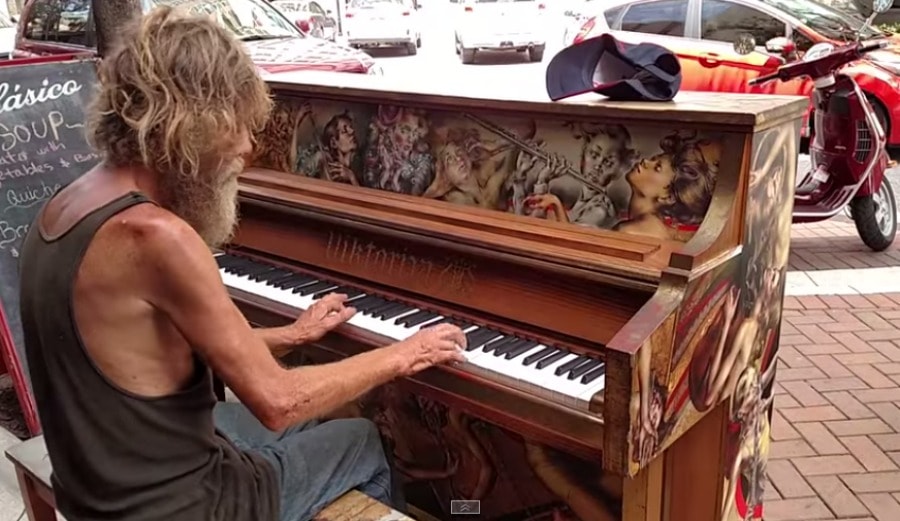 People Look Surprisingly As This Homless Man Plays Piano Beautifully
Share this post
Donald Gould, a 51-year-old homeless man in Sarasota, Florida, recently captured the internet's attention after a video of him playing a beautiful piano rendition of Styx's 'Come Sail Away' went viral. Before losing his wife and falling on hard times, this man was a Marine Corp clarinet player and was on course to become a music teacher.

In the video, he plays his heartfelt rendition of the classic song on a piano left outside by Sarasota Keys, a music store that has placed popularly-acclaimed outdoor pianos throughout the city for anyone to play.

After his Video went viral, this Interview was recorded. Hear what he had to say.
So far, one nearby bar called Surf Shack has offered to give Gould a tryout as a piano player for their upstairs piano bar. He is also searching for his now-18-year-old son, whom he lost to child services after losing his wife and turning to drugs. Hopefully, this video will throw many opportunities his way.

Like Picescorp on Facebook
Follow @Picescorp
Share this post
Leave your Comments Here
Don't Miss Out On These Awesome Posts