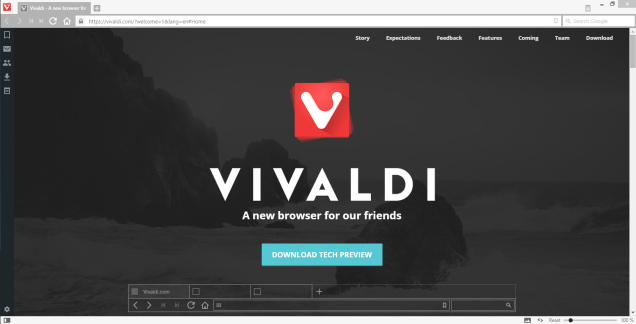 Mr. Jon Stephenson von Tetzchner who founded Opera in 1995, has recently in the year 2013 started new venture named Vivaldi Technologies. Vivaldi Technologies has launched a Brand New Browser for Tech Preview which is called Vivaldi Browser.
Vivaldi was made available on 27th January 2015, and it has since then crossed more than 500,000 downloads just within 10 days of it's launch. With Great interface and new technologies used, it indeed will prove tough competitor to google chrome.

Why Vivaldi has made quite of it's impact with users? Well here we bring you the reasons why Vivaldi is Sudden Hit and by the way it is progressing it is needless to say it might be one of the Top Browser.
It is developed in Modern Languages like HTML5, Node.js, ReactJS, and the Blink layout engine.


Interface of Vivaldi is quite rich and way easier to operate.


The tag line of the Vivaldi states - " A new browser for our friends. " It is indication of how Vivaldi is made by keeping all the user requirement in mind.


Chrome and other browsers Offers Extensions to perform several tasks, but Vivaldi aims to come over that. Vivaldi includes most of the Functionality With the browser, avoiding extensions for most required functions.


Most of features are available on left toolbar, which is very easy to understand and use, also it can be easily customized.


Shortcuts and Keyboard lovers will love it, as Vivaldi has so many Keyboard shortcuts to offer


Another Feature from Opera is kept as it is, that is Speed Dials. Management of our Favourite sites can not get any easier, as Vivaldi let us Organize the sites and favourites with folders.


Tab Stacks is feature which is fresh and sounds real good. This feature let one group multiple tabs under a single tab. Just drag a tab over to another for easy grouping. Also the position of tab can be changed to Bottom, Left, Right or you can also hide the tab.


Notes feature of Vivaldi is our Personal Favourite. It just does not allow us to make notes but also add screenshot and tags with it, to easily organize and find them later.


Other features like Vivaldi Mail, Sync and Spatial Navigation are also being intorduced which will be made available in the final build of the product as right now only the Tech Preview of the Browser is available on site.